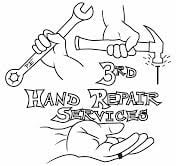 3rd Hand Repair Services
Buffalo, MN 55313
serving Wright County, West Hennepin County, Carver County, and the Lake Minnetonka areas.
HANDYMAN SERVICES include but not limited to: Drywall Repair, Tiling, Deck Repair, Finish Trim, Painting, Product Assembly, Caulking, Picture Hanging, Concrete, Yard Work, Construction Clean-up, all-around Fixing, and most other jobs that need to be done.
SUB-CONTRACTOR SERVICES include temporary assistance. I am registered in the State of MN and carry business liability insurance.
At 3rd Hand Repair Services, I am dedicated to providing my customers with top quality service and a high level of craftmanship. I have made it my mission to provide a helping hand to accomplish your goals.
I value your business. How you want the job done and what you expect is very important to me. I want you to be happy and will give you my best effort to ensure your satisfaction.
To learn more about 3rd Hand Repair Services, and the products and services I can offer, please call me at (763) 229-6758. Or email me at 3rdhandrepair@gmail.com
serving Wright County including Buffalo, Rockford, St. Michael, Albertville, Maple Lake, Annandale, Montrose, and Hanover. Plus, the northwest parts of Hennepin County including Hamel, Loretto, Medina, Rogers, Maple Grove, St. Bonifacius, plus more. Also, Carver County, Waconia, Mayer, Victoria, Watertown and others.
Plus, the Lake Minnetonka communities of Orono, Long Lake, Maple Plain, Mound, Wayzata, Excelsior, Spring Park, Minnetonka Beach, Tonka Bay, Woodland, and more.
55313, 55311, 55369, 55345, 55346, 55359, 55364, 55331, 55384, 55391, 55340, 55357, 55375, 55446, 55447, 55358, 55302, 55327, 55361, 55392, 55374